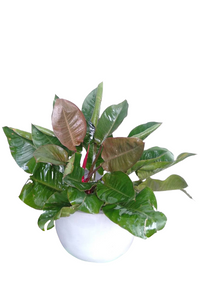 Philodendron Congo Rojo Plant with Titanium Finished Painted Cement Pots - 3 to 4 Feet (Plant Height)
Regular price
Rs 24,100.00
Rs 0.00
Unit price
per
The Philodendron Congo Rojo plant is a fast growing Philodendron with interesting red colored new leaves that start copper red and then age on magnificent red stems to a deep emerald green.
Plant height : 2-3 feet
Plant spread: 2-3 feet 
titanium pot 
avoid
exes
 water 
leak
 on the your office or house floor.

Philodendron Congo Rojo Plant with Titanium Finished Painted Cement Pots (White)

Please note that minimum total order value for home delivery is LKR 3,000.
Orders less than LKR 3,000 can be picked up from the P&P Supercentre or from our store in Colombo 5. Please select the "Pickup" option in the "Information" page during checkout.
---