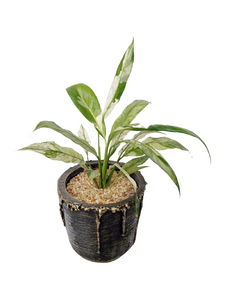 Peace Lily Plant in Decorative Pot
Regular price
Rs 5,000.00
Rs 0.00
Unit price
per
Being highly variegated as they are, keeping them in a bright-indirect south facing window is preferred, but any bright window will do just fine. Keep these plants out of direct afternoon sunlight, but in a bright, well-lit area. An east-facing window is ideal, as they will be exposed to the bright morning sun but avoid the intensity of mid-day rays
Keep the soil moist, but do not over-water. Peace lilies can tolerate short periods of dry soil, but their leaves will start to brown if neglected for too long.
Approximated Height of the Plant - 30 - 35cm
Please note that minimum total order value for home delivery is LKR 3,000.
Orders less than LKR 3,000 can be picked up from the P&P Supercentre or from our store in Colombo 5. Please select the "Pickup" option in the "Information" page during checkout.
---